Hangzhou Building Business Tourism Complex Night Lighting Project won the 5th Zhongzhao Award Lighting Engineering Design Award Excellent Nomination Award Application Unit: Hangzhou Lighting Supervision Center.
Hangzhou Tower Business and Trade Complex is a comprehensive shopping mall consisting of Hangzhou Tower A, Block B, Block C (Kun Hedian), Block D (Hua Zhe Store) and the connecting link of the North Ring Road. It is a comprehensive shopping mall. The core of the Wulin Commercial Circle is also the key project for the construction of the nightscape lighting project in Hangzhou in 2009.

1. Hangzhou Tower is one of the landmark buildings in Hangzhou. In particular, the main building of Building A has been unanimously recognized by all walks of life for its simple appearance and unique shape. Therefore, the night lighting design needs to be considered as a whole, and the original lighting intensity of the Hangzhou Building is kept unchanged. The existing white glare of Block A is the main key of the lighting, and the Hangzhou Building in the Wulin Commercial Circle area will continue to be maintained. "The brightest spot."

2. The blade-shaped grille of the B-seat is used as a common element in the design of night lighting, extending to Block C (Kun Hedian) and Block D (Huazhe Store) to enhance the unity of the complex and the lighting project. Integrity. At the same time, it is considered to adopt the method of installing LED line lights on the outside of the grille to realize the dynamic picture function of the "media wall". This method effectively not only enhances the commercial atmosphere of the shopping city, but also brings novel and varied lighting effects, especially It is the east side of Block C (Kunhe) facing the Canal and West Lake Cultural Square. The ever-changing patterns bring visitors unlimited surprises and beautiful visual enjoyment.

3. The pedestrian bridge of Huancheng North Road is the key link of the commercial and tourism complex project. Due to the consideration of the safety of passing vehicles, the lighting of the bridge adopts soft and elegant internal light transmission, and the lamps are skillfully combined with the structure of the bridge. It achieves the effect of seeing the light without seeing the light, and at the same time taking into account the daytime landscape effect of the flyover, adding a beautiful night view effect of the whole body.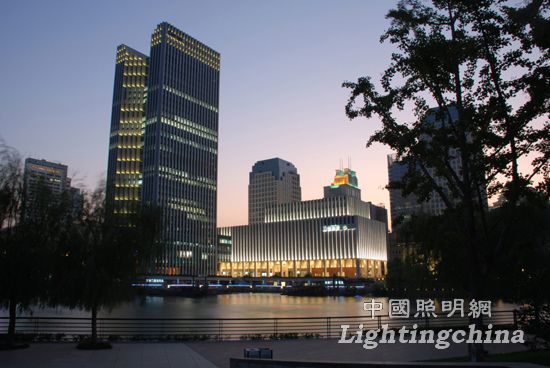 Hangzhou Building 01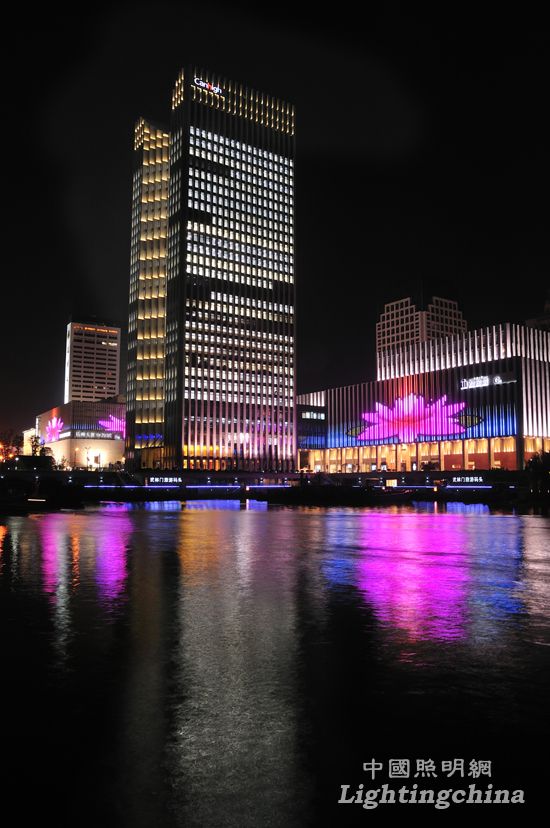 Hangzhou Building 02