The CX25858 integrates an 8-channel audio and video decoder for monitoring the PCIe interface, including eight high-quality NTSC/PAL video decoders and a 10-bit ADC with five comb filters for the highest quality digital video. Output and lowest possible noise. The CX25858 also includes eight high-quality mono audio A/D and I2S outputs. This article describes the main features of the CX25858, the block diagram, and the main features and block diagrams of the multiplexer/video decoder evaluation board.

The CX25858 8-Channel Audio/Video Decoder with Integrated PCIe Interface was designed for surveillance applications. The CX25858 contains eight high quality NTSC/PAL video decoders with 10-bit A/Ds and 5-line comb filtering, to generate the highest quality digital Video output with the lowest possible noise. This creates not only the best image quality for viewing, but enables lower bitrates for compression devices using the output of the CX25858.

The video decoders within the CX25858 are optimized to lock to inputs with low signal levels as well as line-locked cameras, both of which are common in surveillance systems. Each video decoder may be scaled independently and the CX25858 supports BT.656 as well as a variety of other interleaved digital video output formats.

The CX25858 also contains eight high-quality mono audio A/Ds with I2S outputs.

Main features of CX25858:

PCIe Bridging

The CX25858 contains a PCIe 1.1 compliant x1 interface. It is ideal for "capture card" applications in systems where eight channels of high-quality, uncompressed video must be digitized and transmitted via PCIe for viewing, compression, and/or analytics. The CX25858 Can downscale digital video from 4:2:2 format to 4:1:1, reducing bandwidth requirements from 16 bits per pixel to 12.

Additionally, the CX25858 supports the bridging of up to four channels of digital video and audio from PCIe, and can output these streams over pins in BT.656 or I2S-style interfaces, respectively.

Direct-Connection to Multi-Channel H.264 CODECs

The CX25858 supports byte, line, or frame-interleaved digital video outputs at 27, 54, or 108 MHz. Byte and line interleaved outputs are supported entirely within the CX25858. Frame-interleaved outputs require that the CX25858 interface with external DDR2 memory. CX25858 supports I2S and multiplexed I2S audio outputs.

The CX25858 contains an interface for Maxim H.264 CODECs that permit the CX25858 to bridge compressed data from Maxim devices to the PCIe bus.

This simplifies the Bill of Materials (BOM) and reduces costs in PCIe systems.

Distinguishing Features

• Eight High-Quality NTSC/PAL video decoders:

- Anti-alias filters

- 10-bit A/Ds

- 5-line comb filtering

- Independent scaling

• Eight Mono audio A/Ds

- Variable sample rates

- I2S outputs

• Flexible digital video output formats at 27, 54, and 108 MHz

- Byte-interleaved

- Line-interleaved

- Frame-interleaved (requires external DDR2 memory)

• PCIe 1.1 x1 interface

• Interface to Maxim CODECs for bridging of compressed data to PCIe

• Tiling and cascading functions (requires external DDR2 memory)

• Programmable Motion Detection

• 48 GPIO pins

Additional Features

There are two variants of the CX25858 offered — one with the external DDR2 interface, and one without the interface. When equipped with DDR2, the CX25858 supports frame-interleaved video outputs, as well as a 2x2 CIF tiling mode, in which four CIF
Images are tiled into a single D1 stream.

The CX25858 may be cascaded with the CX25838 to create a 16-channel system for sending video and audio data over PCIe. The CX25858 includes programmable motion detection logic, which can trigger flags or PCIe interrupts when motion is detected on incoming analog video streams.

The CX25858 contains 48 GPIO pins, which maximize flexibility and allow customization to a variety of applications and designs. I2C interfaces and the Maxim interface are supported via GPIOs.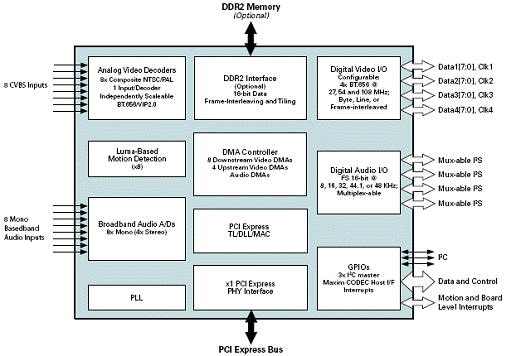 Figure 1. Block diagram of the CX25858

Multichannel Audio/Video Decoder Evaluation Board CX25838-EVK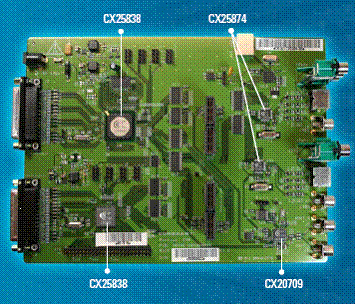 Figure 2. Outline of the evaluation board CX25838-EVK

The stand-alone evaluation kit is designed to showcase the capabilities of Conexant's CX25838 devices. Each CX25838 device integrates eight high-quality video decoders with eight audio A/Ds, and supports byte and line-interleaved digital video outputs. The CX25838-1x contains a DDR2 interface and supports frame-interleaved outputs as well as 2x2 CIF resolution tiling. Frame-interleaved outputs provide key benefits and additional flexibility to many DVR systems by verify glue-logic and lowering codec processing requirements.

The CX25838-2x (without DDR2 interface) may be cascaded with the CX25838- 1x to allow frame-interleaved output of up to 16 video channels. High-speed headers on the board are designed to allow uncompressed video and audio output from the CX25838 devices The CX25838 contains enhancements specific to surveillance applications, such as programmable motion detection, expanded line-locked camera frequency ranges, and enhanced low-level input locking capabilities.

The CX25838 Evaluation Kit also includes Conexant's CX25874 video encoders, which accept BT.656 data from the CX25838 multi-channel decoders and generate analog composite, S-Video, and component outputs. Additionally, Conexant's CX20709 device accepts digital audio data from the CX25838 and Converts it to analog output.

The evaluation kit is controlled with a user-friendly PC application, which interfaces to the board via USB. In addition to controlling the board, the USB interface allows bridging of video data from the CX25838 to the PC, for evaluation of pure digital video.

The CX25838 Evaluation Kit provides DVR manufacturers with a simple, yet powerful evaluation and development platform for systems based on the device. The CX25838 is the world's only eight-channel integrated audio/video decoder for surveillance DVR applications.

Benefits

Conexant CX25838

• Eight Video Decoders and Audio A/Ds: Highest level of integration, smallest PCB footprint

• Frame-Interleaved Video Outputs: Eliminate glue-logic and reduce codec overhead

• Designed specific for Video Surveillance DVR Applications: Motion Detection, Line-Locked Camera, and Low-Level Input Features

• 5-line comb filtering: Excellent luma/chroma separation for best image quality and lowest compression bitrate Conexant CX25874

• Four high-performance, 10-bit DAC outputs support composite, S-Video, and component analog out

• Adaptive flicker filtering and peaking filters for text sharpness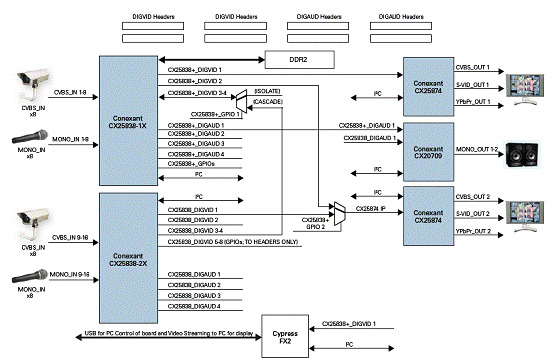 Figure 3. Block diagram of the Multichannel Audio/Video Decoder Evaluation Board (CX25838/CX25874/CX20709)
This article refers to the address: http://
Magnetic Contactors are divided into AC contactors (voltage AC) and DC contactors (voltage DC),which are used in power,distribution and power applications.In electrical engineering, because it can quickly cut off the AC and DC main circuits and devices that can be frequently switched on with high current control (up to 800A), it is often used as a control object for motors, as well as for controlling plant equipment. The electric load of the electric heater, the working machine and various power units, the contactor can not only turn on and off the circuit, but also has a low voltage release protection. The contactor has a large control capacity and is suitable for frequent operation and remote control. It is one of the important components in the automatic control system.
AC Contactors are our mainly products,we have our own research and development team,we are always commited to provide the good quality,best service to all of our clients.Our Contactors had experienced many changes,so you can see that Economic AC Contactor- New AC Contactor -Super AC Contactor,also have LC1-F AC Contactor etc,in order meet different kinds of customer's requirements.
Magnetic Contactors
Magnetic Contactor,Electrical Contactor,Electric Contactor,Mini AC Contactor
Ningbo Bond Industrial Electric Co., Ltd. , http://www.bondelectro.com