<
em>On May 7th, "2013 Zhongshan Lighting Quality Upgrade Strategy Conference" was successfully held in Xiaolan, Zhongshan. The conference attracted more than 400 business leaders.
The conference was jointly sponsored by Gaogong LED, Zhongshan Semiconductor Lighting Industry Association and Zhongshan Semiconductor Lighting Industry Technology Alliance. Zhongshan Science and Technology Bureau, Zhongshan Xiaolan Town People's Government as support unit, Philips Lumileds, Mulinsen Lighting, Mingwei Electronics, Confucian Electronics, Star Alliance Lighting, LED Lighting Expo Center, etc. are sponsors. It covers various key elements of enterprises, governments, business associations, high-end media, and exhibition platforms of regional industrial clusters.
Hong Ji Lighting General Manager Du Jifang, Pinshang Lighting Chairman Hong Ziang, Guangyang Lighting General Manager Chen Shaozhong, Xiaobailong Lighting Chairman Wang Yunlong, Ou Man Technology Lighting General Manager Li Xiaoping, Minguang Lighting General Manager Guo Huaguo, Shanghai Luyuan Lighting Standing Vice President Luo Quanxing, Ward Lighting General Manager Cai Xianghu, Yuzhiyuan Solar Technology Chairman Lei Zongping, Zhongshan Starlight Alliance Investment Co., Ltd. Zeng Shuneng, Guangbohui Managing Director Guo Xiu, Kyushu City General Manager Zhang Liqiang, Zhongshan Semiconductor Lighting Industry The delegation of the Association, Tu Qiaoling, and the Secretary of the Zhongshan Lighting Association, Mr. Decheng, and other 400 guests attended the meeting.
Zhang Xiaofei, CEO of Gaogong LED Research Institute, said that there are currently three major distribution centers in China's traditional lighting market: Zhongshan Guzhen, Linyi and Zou District. Under the impact of LED lighting, if there is no clear positioning and scientific planning, if it is not transformed, it may lose its original status. It can be said that the pattern of traditional lighting will be greatly changed. What is the desire of Zhongshan LED? LED base? Accessories base? Manufacturing base? Export base? Still a low-cost product base?
In the future, if Zhongshan still does not change its market policy with low prices, a major crisis will occur and the national market share will decrease. LED lighting products have higher quality and technical requirements than traditional lighting products.
Zhang Xiaofei believes that the Zhongshan LED industry must be upgraded from three levels. The first is the enhancement of the company's own strength, including positioning, strategy, management, products, capital, etc.; then the re-architecting and strengthening of the channel, while paying attention to the supplement of network channels, including quality, channel, and technology; The low-end brand image forms a three-tiered brand of high, medium and low, which is to achieve brand breakthrough.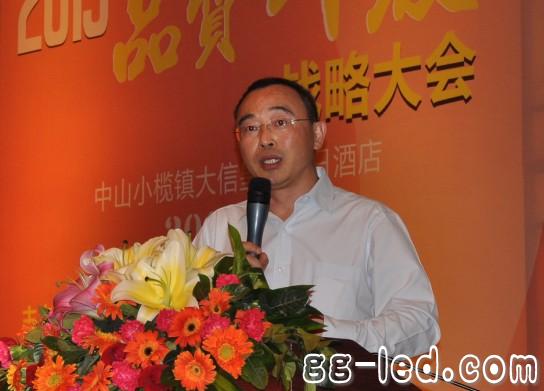 Rental Led Display Screens

LED technology is the latest and the best in terms of the audio visual technologies out there and it is still evolving. There is a strong emphasis in making LED displays energy efficient, cost efficient and light weight apart from other quality requirements. Hence, LED cabinets are also now expected to be lighter in weight. This need has resulted into the gradual shift from the iron cabinet, aluminum cabinet, to the cast-aluminum and die cast aluminum as the weight of the cabinet is lighter. Cast aluminum and die cast-aluminum cabinets are the latest of the cabinets used for LED casing.
The cast aluminum and die cast-aluminum cabinets have high strength and high tenacity. They are highly efficient, provide excellent heat dissipation, energy conservation and environmental protection. Because of their outdoor usage, they can be made as a waterproof cabinet of leasing cast aluminum. They are lightweight and ultrathin. They are quite flexible for easy packaging and lifting. They have a high refresh rate, high grayscale and are widely applied to the stage renting. They are easy and simple to install and thus help you save on precious time and man power as one-person can easily do the insallation. Cabinet splicing and wiring connection is fast and reliable. Not only great in looks dept. it can be easily dismantled. Casting Aluminum and die Casting Aluminum Cabinet also have better deformation resistance property.
Rental Led Display,Rental Led Screen,Led Video Wall,Led Screen Rental
Shenzhen Priva Tech Co., Ltd. , https://www.privaled.com