On December 12, 2012, Cree (Nasdaq: CREE) launched a commercial XLamp XM-L2 LED, once again setting a milestone in the performance of the LED industry. The new XLamp XM-L2 LED has a luminous efficiency of 186 lm / W at 350 mA and 25 ° C, achieving the level of performance that was achieved only in the laboratory three years ago. Based on Cree's innovative SC³ technology next-generation platform, the new XLamp XM-L2 LED achieves multiplied value (lm / $) and 20% higher luminous efficiency compared to the previous generation XLamp XM-L products, thereby helping lamp manufacturers A smaller number of LED devices can get a better lighting system and lower cost.
The new XLamp XM-L2 LED is optimized for ultra-high lumen applications, including indoor lighting, high bay lights and outdoor lighting. The high-performance XLamp XM-L2 LED is compatible with the previous generation XLamp XM-L LED design, using the same XM series package size (5 mm x 5 mm), allowing customers to easily integrate XLamp XM-L2 LED into existing XM LED design, thereby shortening the lamp design cycle and speeding up the time to market.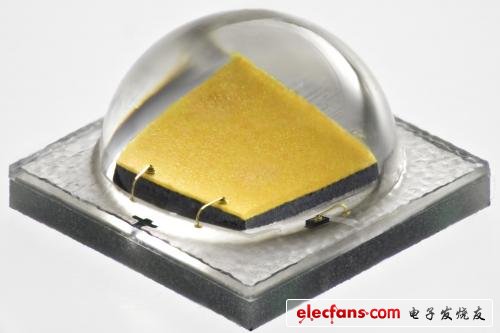 XLamp XM-L2 LED
Jeff Rogers, vice president of sales and marketing at Musco Sports LighTIng, said: "We are pleased to see Cree's launch of XLamp XM-L2 LED, which improves the performance of the XM series. XLamp XM-L2 can help us improve our existing XLamp XM-L design Performance without changing the optical design or drive. "
XLamp XM-L2 LED achieves an effective combination of high luminous efficiency and high drive current, and achieves an extremely high light output of 1198 lm under the conditions of 3A and 25 ° C (at this time, the light efficiency can reach 116 lm / W). XLamp XM-L2 LED is the eighth product based on Cree SC³ technology platform. The innovative technology platform adopts Cree's advanced silicon carbide (SiC) technology, exhibits excellent characteristics in LED chip structure and fluorescence conversion, and uses the latest packaging technology to match it, thereby providing the industry with the most advanced LED devices .
Steve Walczak, director of engineering at Sternberg LighTIng, said: "Each XLamp XM-L2 LED can effectively provide hundreds of lumens of light output, helping us to significantly reduce the use of LED devices in the design. Fewer LED devices The quantity allows us to simplify design and production, and ultimately reduce the system cost for our end customers without sacrificing light output and light quality. "
At 85 ° C, XLamp XM-L2 LEDs are available in 2700K-6200K color temperatures, with minimum color rendering indexes of 80, 85, and 90. At the same time, because XLamp XM-L2 LED is a follow-up upgrade product of XLamp XM-L LED, only 3,000 hours of XLamp XM-L2 LED LM-80 data is required for ENERGY STAR certification application instead of the usual 6000 Hours of testing. XLamp XM-L2 LED has also passed UL certification and is rated as level 4.
Cree XLamp XM-L2 LED can now be mass-produced according to standard delivery time.
About CREE
Founded in 1987, Cree is a US listed company (1993, NASDAQ: CREE), a well-known manufacturer of LED epitaxy, chips, packaging, LED lighting solutions, compound semiconductor materials, power devices and radio frequency in the world Vendors and industry leaders. The advantages of Cree LED lighting products are reflected in the unique material technology and advanced white light technology in gallium nitride (GaN) and silicon carbide (SiC). It has more than 1,700 US patents and more than 3,600 international patents. 589 Chinese patents (including the authorized and pending patents) keep Cree LED products at the world's leading level. Cree lighting-grade high-power LED has the advantages of high light efficiency, stable color point and long life. Cree provides customers with complete sets of LED lighting solutions while providing high-quality, highly reliable light-emitting device products.
3D Outdoor Warm,White Christmas Light,LED Animated Motifs,Holiday Decoration Tree
XINGYONG XMAS OPTICAL (DONGGUAN ) CO., LTD , https://www.xingyongxmas.com