A group of 13 LED architectural lighting companies from Japan and Turkey made their first visit to Taiwan yesterday (29). Taiwan 's LED factories, including Everlight, Lite-On, and South Asia Optoelectronics, participated in a total of 36 purchasing meetings. The organizer 's Office of the Ministry of Economy 's Promotion of Green Trade Project pointed out that the total amount of potential purchases for architectural lighting manufacturers this time was about $ 30 million.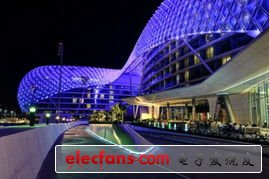 The Ministry of Economic Affairs promoted the establishment of a green trade project office in January last year. This year for the first time, the LED industry held an overseas buyers 'procurement conference in Taiwan. The manufacturers who come to Taiwan are all architectural lighting factories. The LED industry, therefore, is different from the so-called "OEM orders" that emphasize bidding and leading the market. Therefore, there are many Taiwanese LED factories interested in participating.
The co-organizer of the Industrial Research Institute pointed out that Japan and Turkey's architectural lighting manufacturers have strong design and export capabilities, especially Turkey, which is located in the European, Asian, and non-traffic hubs. It is a good overseas layout for Taiwan's LED industry. s Choice.
Taiwanese manufacturers who participated in the talks yesterday included 36 Taiwanese LED manufacturers including Everlight, Lite-On, Nanya Optoelectronics, BenQ Asia Pacific, Edison, Lediyang, Zhenmingli, Luminus, and Yangxin. The representative of Japan, Kobayashi, who came from the procurement delegation for this time, is a Japanese LED light source popularization development agency. At present, the organization has more than 1,000 members engaged in practical application-end architectural design, installation and LED lighting manufacturing design. The LED Association signed a MOU to establish a good relationship between the LED industry associations of the two parties. When coming to Taiwan, Kobayashi expressed that he hopes that the Taiwanese industry can join in and participate in the standardization of LEDs in East Asia.
As the penetration rate of LED lighting will exceed 25% next year, and the market size will reach 15 billion US dollars, it will grow by 20% compared with this year's scale of about 12.5 billion US dollars. The market business opportunities are expected. To build a brand, the world will not be robbed by the mainland or South Korea.
Ye Yinfu pointed out that due to the high overlap between Taiwan 's LED downstream industry and the mainland, it is not a good choice if it continues to take the path of OEM. He believes that even if the global LED lighting penetration rate is gradually increasing, the road of lighting brands is still very hard. However, if Taiwan does not establish a brand and only does OEM, it cannot compete with international manufacturers. Everlight is committed to the localization of the brand, although it is very hard, it will continue to go on.
Evaporative Air Cooler is a new kind of cooling machine which can save more energy but also has strong cooling ability. With ice box and cooling pad, the air cooler can make your room temperature lower and lower. It is widely used in hotels, restaurants, supermarkets and factories.
Our well-equipped facilities and excellent quality control throughout all stages of production enable us to guarantee total customer satisfaction. Besides, we have received CE, CB, RoHS and CCC certifications.
As a result of our high quality products and outstanding customer service, we have gained a global sales network reaching America, Asia, Europe, Africa, the Middle East and other countries and regions.
If you are interested in any of our products or would like to discuss a custom order, please feel free to contact us. We are looking forward to forming successful business relationships with new clients around the world in the near future.
Evaporative Air Cooler
Room Air Cooler,Water Air Cooler,Arctic Air Cooler,Air Water Cooler
Ningbo Banshen Electric Appliance Co., Ltd , https://www.banshendq.com