On June 24, 2014, Dalian United Holdings, a leading electronic component distributor dedicated to the Asia-Pacific market, announced that its subsidiary will launch an intelligent lighting solution based on Toshiba TB62D901FNG step-down non-isolated LED lighting driver IC. .
The TB62D901FNG is a constant current driver IC suitable for use in buck AC/DC conversion LED lighting applications. The architecture includes an automatic turn-off period adjuster that suppresses variations due to input voltage fluctuations or LED forward bias, providing a stable and uniform LED current for the system. The device allows for linear dimming or PWM dimming, and has a wide range of detection functions, thermal shutdown, over current, over voltage, low voltage latch and current sensing input terminals (ISEN1) open circuit detection.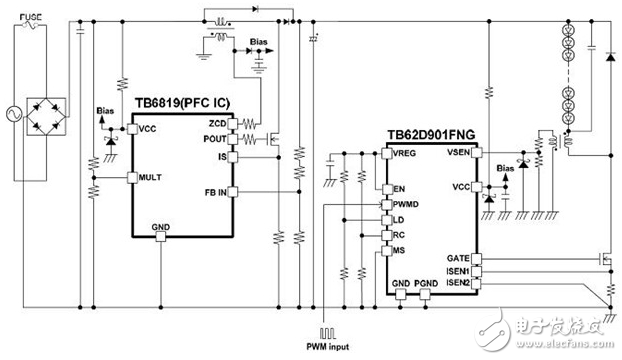 Graphic - TB62D901FNG architecture diagram
feature:
• Operating voltage: 12V to 30V
• Dimming function:
Linear dimming (by adjusting the peak current of the LED)
PWM dimming
• Switching frequency: adjustable up to 500kHz
• Operating mode:
Current continuous conduction mode (automatic off time control mode, fixed off time mode)
Critical conduction mode
• Efficiency: 90% or higher (using recommended components)
• Detection function:
Thermal shutdown (TSD)
Overcurrent detection (OCP)
Overvoltage detection (OVP)
Low voltage latch (UVLO)
ISEN terminal open circuit detection (IOP)
• IC standby function: Allows EN signal in standby mode, max. 0.8 mA current consumption
• Operating temperature: TOPR= -40°C to 105°C
• Package: SSOP16-P-225-0.65B
The United Nations General Group is responding to the market demand for low-power, intelligent lighting, and Toshiba-based products provide a variety of needs for LED smart lighting applications. Such as higher performance non-isolated LED controllers. Schottky diode series products with low on-voltage and high-power LED with high price and high price.
Schottky diode lineup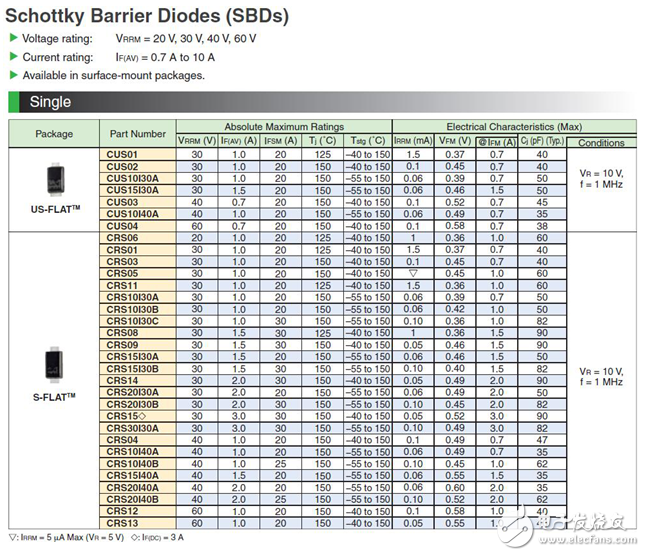 High-power high-efficiency LED light-emitting diode
The traditional method of producing LED chips is done on a 2 to 4 inch chip with an expensive sapphire substrate. Toshiba and Bridgelux, Inc. have developed a process for fabricating gallium nitride light-emitting diodes on 200 mm silicon chips. Toshiba has also invested the process in its Kaga Toshiba Electronics Corpora, a home in Kaga Toshiba Electronics Corp. A new production line for discrete device manufacturing plants in northern Japan.
The use of Toshiba and Puri's new GaN-on-Si technology to produce LED chips has enabled Toshiba to eliminate the need for sapphire substrates and to produce chips on more cost-competitive silicon substrates.
Low-power and long-life white LED lamps are becoming more widely used in general lighting, television backlighting, and other applications.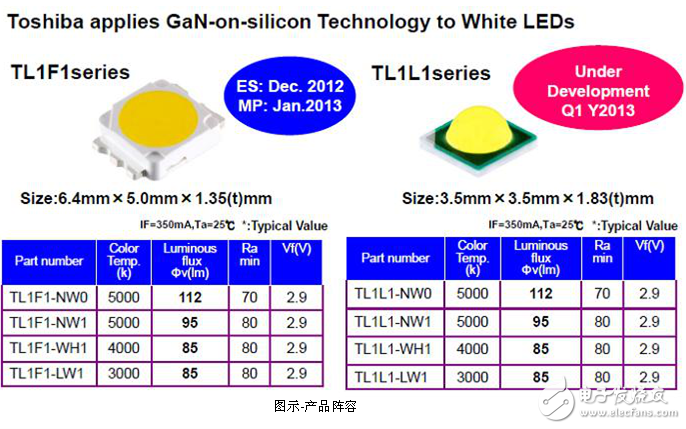 Graphic - product lineup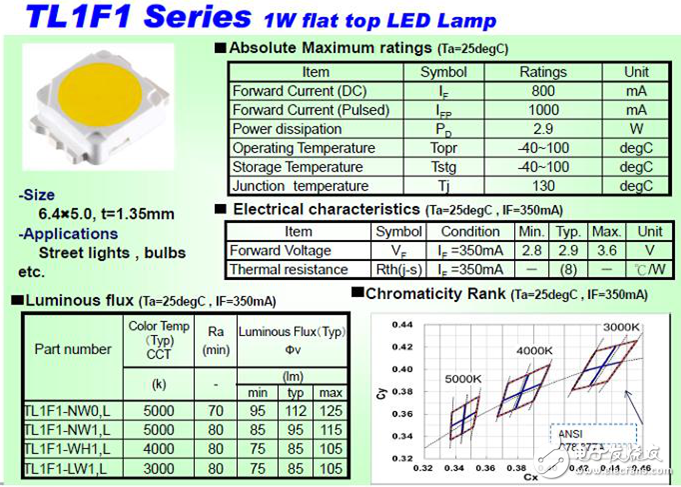 Graphic - product lineup
About Dalian United Holdings
Datongda Holdings is a leading distributor of electronic components in the Asia Pacific region. Headquartered in Taipei (TSE:3702), it is a leader in the distribution of components in the Asia Pacific region including World Peace Group, Pinjia Group, Quanding Group and Youshang Group. The brand has nearly 6,500 employees, more than 250 agent products suppliers, more than 130 distribution locations around the world (about 80 in Asia Pacific), and a turnover of more than $13.2 billion in 2013.
Dalian United Holdings holds an industry holding platform, continuously optimizes the front-end marketing and logistics support team, acts as a professional partner in the industrial supply chain, provides Demand CreaTIon, solutions (Turnkey SoluTIon), technical support, warehousing logistics and IC e-commerce. Value-added services, such as original equipment manufacturers (OEMs), original design manufacturers (ODMs), electronic manufacturing service providers (EMS) and small and medium-sized enterprises. The international operation scale and localized sales pipeline have long been deeply involved in the Asia-Pacific market. It has been selected as the "Best IC Distributor in Asia" by professional media for years, and is the world's third largest electronic component distributor.
Smart Air Inflator,Smart Air Pump Bike,Automatic Smart Air Pump,Electric Automatic Smart Air Pump
SHENZHEN SMARTNEWO TECHNOLOGY CO,. LTD , https://www.newopump.com