[Text|High-tech LED reporter Wen Zhao]
LED drive power plays a very important role in the promotion and rapid popularization of LED. In the rapid development of the LED industry, related issues have become increasingly prominent. For example, LED drive power, many low-quality, low-performance products flood the market, adding a shadow to the market prospects of the entire LED lighting industry.
At the same time, with the diversification of the demand for LED lighting products, higher requirements are placed on the factors such as the volume, yield and reliability of the power supply. LED lighting companies are paying more and more attention to the quality and reliability of the driving power supply.
At the 2014 High-Tech Conference, the round table dialogue held by Zhongheng Paiwei's "Intelligent Lighting, Mining Your Next Gold Mine" sub-forum, Zhongheng Paiwei General Manager Ye Jianbo, Eurolink Electronics Co., Ltd. Manager Jiang Shuxing, Dialog Power Conversion Marketing Director Yan Liang, Mao Shuo Power Vice President Liu Yaoping, Emerald Technology Director Luo Wei, Kegu Power Co., Ltd. General Manager Li Jinhong, Langke Intelligent Chairman Liu Xianwu, Infineon Electronics Vice President Zhang Huajian, etc. The leaders of the company discussed the topic of "LED Intelligent Lighting, What Can Drivers Do?", Zhang Xiaofei, Chairman of Gaogong LED, presided over the round-table dialogue.
"The whole intelligent lighting is a gold mine. Since there are gold mines, there are gold mines, water sales, and tools. What kind of role does it play as a driving power source?" Zhang Xiaofei introduced and participated in the round-table dialogue. Enterprises, there are listed companies, there are international companies, there are rising stars, there are early, large scale, and the lineup is very strong. "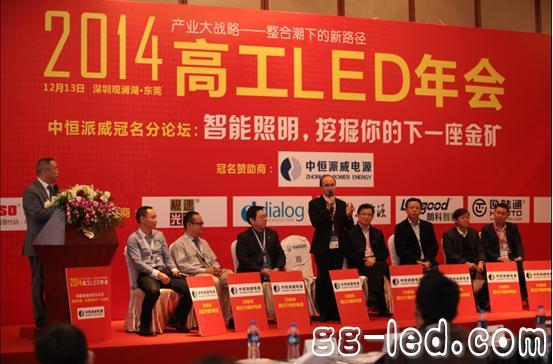 Round table dialogue
Li Jinhong, general manager of Kegu Power Co., Ltd.: Only LED commercial drive power supply
"Our customers have seven words true: focus, precision, reliability, fast." Zhou Xuejun said that Kegu power supply only LED commercial drive power, all resources are concentrated The use of these seven words.
Talking about the status quo of the industry, Li Jinhong said: "At present, the entire LED power industry is chaotic, and the Red Sea is everywhere. But this does not mean how difficult the power supply company is. On the contrary, many power supply companies with clear product and market positioning still Can live very moist."
Dialog Power Conversion Marketing Director Yan Liang: do the right driver chips
<br> <br> Yan-liang, product positioning should be consistent with the public need, the most important is the need to understand what we need.
"We will provide reliable, affordable, and excellent dimming driver chips." Yan Liang said that at the product level, good quality is the premise of everything; control chip is the core of the power supply, all aspects of performance must be able Take care of both. At the company level, we are positioned to serve our customers and to be satisfied with our customers.
MOSO vice president Liu Yaoping: To assume responsibility for industry
<br> <br> some extent, listed companies benchmark within the industry, a lot of action will play a leading role, shoulder more social responsibility .
"Mao Shuo is a relatively early enterprise in which LEDs enter, and is the only company in the country that has listed LED-driven lighting power products. Our position is to take responsibility for the industry and achieve a veritable industry leadership." Liu Yaoping said The period is the demand of the industry, and it is also the core task of the Maoshuo power management team. All the work done is done around this, and the customer service is good. The services provided to customers follow six principles, namely quality, cost and delivery.
Lu Wei, Director of Emerald Technology: I
am
subverting myself.
"Our position is
to subvert ourselves
from the products. The competitors are Japanese companies. We have to replace some of the Japanese products, rather than vicious competition in domestic and enterprises. Domestic enterprises. Only by uniting can we have the opportunity to share more market share." Luo Wei introduced that liquid capacitors can not get rid of physical properties and are subject to thermal expansion, which is dangerous to leak, and capacitor performance will be affected in harsh environments, affecting service life. Or capacitive performance.
Therefore, it is imperative to find a solution to replace the commercial capacitor.
Luo Wei pointed out that solid capacitors can completely solve these problems. Emerald has developed higher-end solid-state capacitors. From this point of view, no one else has subverted emeralds. They are themselves subverting themselves.
General Manager of Continental Express Electronics Co., Ltd.: Positioned in the breadth of products
"Because Continental Express is a comprehensive power supply, it is basically a wide range, such as industrial power supplies, consumer adapter power supplies, medical power supplies, etc." Jiang Shuxing said that Continental has always had a goal, that is, after two years, the power supply for any industry can be found in Continental. For the positioning of the product, it is only to do beyond, not to plagiarize.
Mr. Liu Xianwu, Chairman of Netac Intelligent: To do the best thing to do
"Langke has always said something, do something, hope to do what we want to do, to the extreme." Liu Xianwu said, Netac intelligence comes from the product Speaking, positioning is always doing outdoor power supply; from the perspective of marketing, Netac has always been a combination of internal and external sales, a relatively balanced enterprise, and at the same time able to sink into the industry and do what they should do.
Vice President Inventronics Zhang Huajian: subtraction focus on high-power drives
<br> <br> Zhang Huajian introduced the past two years, the company continued to do subtraction, Inventronics is a focus on high-power LED driver company, positioned in High-end indoor drive.
"65% of our customers are overseas. We just hope to contribute to the LED green business together with our colleagues." Zhang Huajian proudly said that the company pays more attention to the high quality of products and the independent intellectual property rights of technology. They have the confidence to represent Chinese companies and international giants.
Ye Jianbo, general manager of Zhongheng Paiwei: Take your own path
"We have been doing power for 20 years and only do our own good power. Focusing on products is not to say that we must make the scale bigger and stronger." Ye Jianbo said, Hengpai has been listed in 2010 until now, and its market value has nearly doubled in four years. Zhongheng Paiwei is very clearly positioned in the market segment and only works in the high-end market.
"For many people to use price wars or other means to compete, we will stick to our line. So far, we have only used China or a few large foreign giant companies as our main service targets, and we are not pursuing them. How big is the size and how much money I earn. I only need to make 300 million and 500 million in this market segment to ensure my profit is enough." Ye Jianbo said.

Ultraviolet Lamp,Pll Uvc Tube,Pll Uvc Light,Pll Uvc Bulb
Changxing leboom lighting product CO.Ltd. , https://www.leboomuv.com