Today is Google's high-end Android VR platform, Daydream listing days. This is a major advancement after Cardboard, officially becoming a competitor for Gear VR.
Google has entered the VR field since 2014, when they launched the Cardboard headline. This is a very low threshold for experiencing VR. Every smartphone user can try VR with a low-cost headline of $15. The company hopes that Cardboard will serve as a stepping stone for people to understand virtual reality, but it is also a stepping stone for Google to go deeper into this area.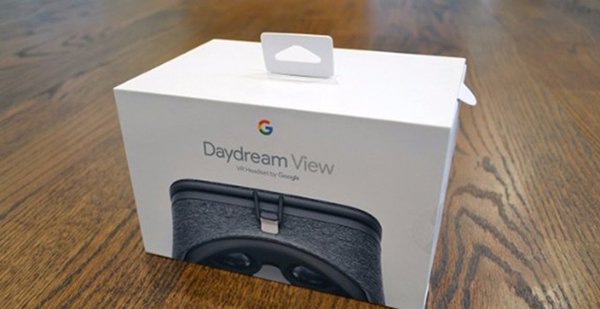 In the Daydream era, Google+VR will bridge the gap between Carboard and the Gear VR supported by Oculus and Samsung. Cardboard will still be there, but Daydream is what we would like to look forward to as Google's headshot: A high-quality VR experience integrated into the Android core.
"Daydream" is not a single product. This is Google's ecosystem for high-end mobile VR, including Daydream-Ready phones, headsets and applications. To unlock the high-end VR features of Android 7.1 Nougat, these three are indispensable. Although Google's great vision is that there will be countless Daydream-Ready hardware on the market, and many manufacturers have announced that their mobile phones are Daydream-Ready, Xiaobian thinks the only reliable choice is to use only Pixel and Pixel XL mobile phones. Daydream View shows. The latter has been listed on the market today and is priced at $80, which is $20 less than Gear VR. Unlike Gear VR, Google did not choose to use the touchpad, but instead provided the user with a basic motion controller as an input method for Daydream applications.
1. Summary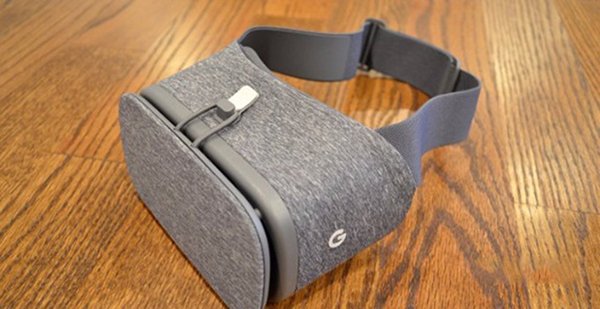 Google's Daydream, Pixel Mobile, and View Heads are a powerful manifestation, demonstrating that the tech giant wants to build a complete VR ecosystem on Android.
At this stage, Daydream is the strongest contender for Samsung Gear VR, which has dominated the mobile VR market since its release. It now appears that the simple extension of the motion controller will serve as a core part of the Daydream experience, greatly enhancing interactivity and ease of use, and in a way that we never thought of.
It is only the first day of the platform. There are only a few games and applications on it. However, Google has laid a clear foundation, Daydream will become an ever-expanding ecosystem, will accommodate numerous mobile phones and head phones, as well as a healthy application market.
Of the Daydream games that are currently on the line, there isn't yet a true grasp of the player's content. But when you consider that you can get a high-quality immersive experience from a simple controller, a simple mobile phone, and an inexpensive head-mounted display, you will find that the use of smart phones as the main game device For the digital age, we can think of Daydream as a substitute for a game console.
As developers learn how to make fun new games with simple motion input, we believe we will see more engaging content. Now that Google has officially launched a complete YouTube VR application, you can easily browse the growing library of immersive videos, as well as a large number of traditional video libraries. Many people will enjoy immersive viewing time in YouTube VR. We just hope we can invite friends to join us because Daydream currently lacks any engaging social VR experience.
While there may be some glare on the head (due to the head's smart adaptive design), Daydream has almost no other significant visual shortcomings and the field of view is only slightly lower than its competitors. Daydream View's performance is very good, far more than Cardboard, and in many ways comparable to Gear VR, including visual acuity.
The $80 price is very attractive to all Pixel users and is also suitable for children who like games. In addition, for Pixel users who are already VR enthusiasts, this is a product that must be purchased.
Is it worthwhile to purchase a compatible phone just because of Daydream? If you are already an Android user and want to buy Pixel, then this is definitely the icing on the cake. Of course, due to the huge content library, Gear VR-compatible phones may be more attractive. And if you are an iPhone user, Daydream is not enough to get you to the Android camp, but you may find yourself already envying Android users.
2. Installation & Experience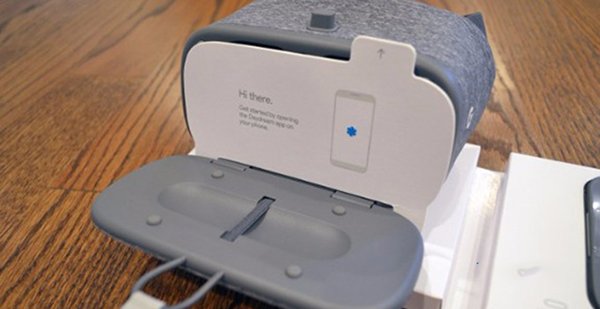 With Pixel XL, it takes only a few minutes to start using View Heads and experience Daydream. After opening the heads-up and the controller's box, I (RoadtoVR founder Ben Lang, the same below) started the pre-installed Daydream application. It first introduced some VR services and other background software and helped me to easily pair Daydream controllers and then update the wireless software to the latest version.
At this time, starting Daydream is just as easy as inserting the phone into the display (thanks to the NFC chip, the system can automatically detect it), and then put on the View header to enter the Daydream experience.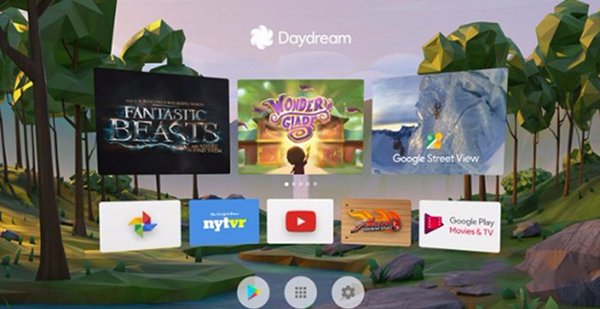 After wearing your head, you will first see a "Home" space. The background is a forest with waterfalls, flowing rivers and howling birds. If you're like me, you'll immediately click on the Play Store button and start exploring the Daydream app that is already online.
At the time of its official listing, Google released five Daydream apps of its own, and the other five were from third-party developers. Currently, we can find 19 applications, but it is not yet clear which ones are the first to experience. If it is not currently available, the extra 9 applications should be officially released shortly. In addition, there will be more than 40 applications on the Daydream platform before the end of this year.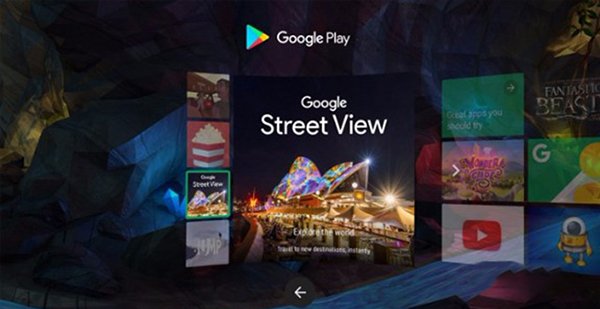 It's easy to browse through the Daydream app store. With an IMU-based motion controller, Daydream's simple point-and-click user interface is quite natural. It interacts with a headset that's better than Gear VR (even with gamepads). better. The Daydream controller will provide you with a simple laser pointer and a touchpad for easy selection and quick scan through the list of options and text.
"Daydream App Store" is actually the same as we are familiar with Google Play Store. This is great because users are already familiar with this interface and navigation, and have a powerful update system for developers to improve their applications. In VR, the Play Store looks a little different, but you can absolutely recognize the interface and its application installation process is very simple: "Browse to an application, feel good to experience, then install it directly."
First of all, there are many types of Daydream applications, but few options. However, with more and more Daydream applications on the shelves, this ecosystem will develop on its own. Currently only specific developers can distribute applications, and as Google opens the portal to all developers, it is expected that there will be a large number of applications in early 2017.
The same applies to launching applications. Click the Home button on the controller to return to the Home screen from Daydream Play Store, where you can view the recently used Daydream app or open the entire library. If you want to run a specific application, just click.
Compared with Cardboard, Daydream experience is a huge improvement. Better performance, richer graphics, more intuitive operations (and more consistent in terms of functionality so far), and the entire experience is located under the Daydream ecosystem and pulled together in a more cohesive way. In contrast, the Cardboard application cannot be downloaded or run in VR.
hardware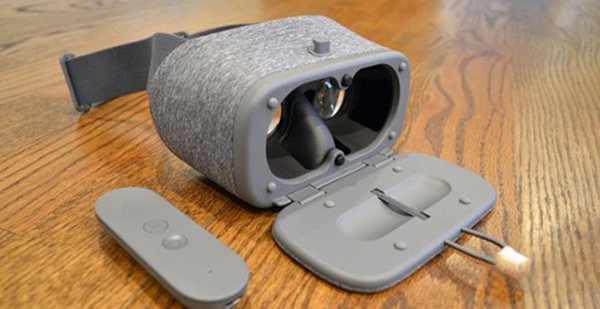 3. Design
Daydream View's design is smart, cheap but generous. The device hides a very simple plastic skeletal structure, which also has two basic lenses, all of which are wrapped in elegant fabrics. Unlike the IVR built into the Gear VR, equipped with a touchpad and a microUSB port, the View head shows nothing but plastic structures and lenses. Of course, there is an NFC chip hidden in the front cover, and its usefulness can be detected automatically after the phone is placed. The head shows no battery, and it doesn't even need to be plugged into the phone.
This method reduces the cost, but also includes the Daydream controller. Compared to the head display, Daydream controller is a bit complicated, which is loaded with battery, touchpad, several buttons and IMU, but with the controller's View head is still less than US $ 100 Samsung Gear VR cheaper $ 20.
The simple design of Daydream View reduced the weight, but the head was not strong enough. The Gear VR feels like it can prevent collisions, damage or breakage, and the View feels like it can be thrown away at any time.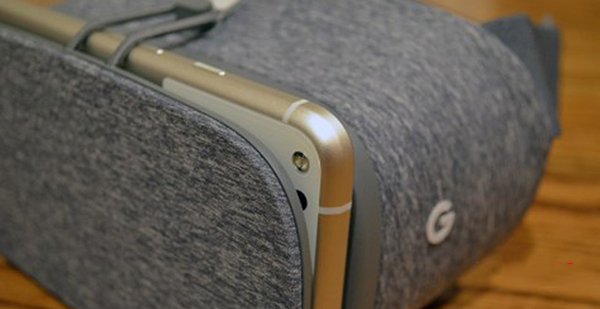 The View is designed to fit all Daydream-Ready phones. Different models of Gear VR have different compatibility among several different Samsung mobile phones, but Google's idea is that all Daydream headers are compatible with all Daydream mobile phones, both now and in the future.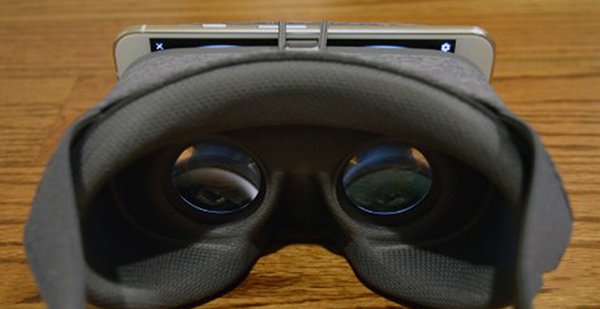 In order to do this, the front cover is mostly open. The head shows no elaborately assembled structure, but instead relies on some high friction pads. These pads will sandwich the phone with the upper spring hooks under the pressure of the lower spring hinge. Spring hinges allow View's front flap to expand to accommodate different thicknesses of mobile phones. The open top and sides allow the head to adapt to mobile phones of different heights and widths. The head display also has two special black capacitive plates that allow the phone to be aimed at the virtual view and the lens. This way you don't have to force the phone to fully align the head. Just put the hinge down, install the phone, and within a few seconds you can start exploring the virtual world.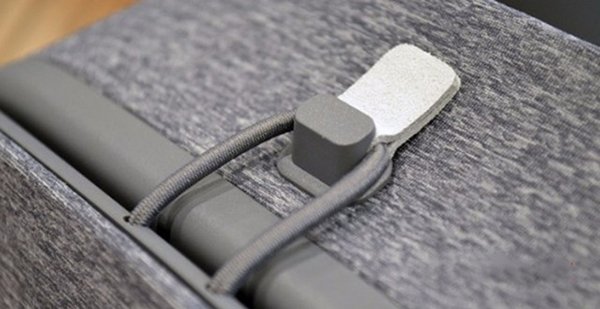 This is a clever design that greatly improves adaptability. Google hopes that this will create a vibrant Daydream-Ready mobile ecosystem. But this also has a drawback (see below for hardware, light leakage and lens flare).
Did I have a heads-up look good with everyone? Google apparently does not want to associate the concept of VR with a future gadget, but instead adds a sense of fashion. This is smart, and Google has done a good job.
4. Controller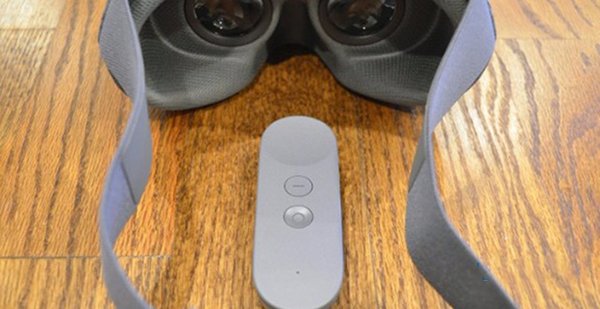 The Daydream Controller is a fairly simple device but adds many elements to the experience. Even if this is only a "3 degrees of freedom" (only for rotation tracking) devices, it can still bring more 1:1 body motion tracking to VR, making the interaction more natural. The pointing and clicking features are simpler and more intuitive than the Gear VR's touchpad, which can easily confuse upper, lower, left, right, front, and back commands during operation.
The design of the Daydream controller is actually very simple and may be a bit too simple, because the definition of the touchpad area is not clear, except for a shallow bowl shape. When you are in VR, although you can't see and feel it, the touchpad's material is the same as the entire controller's material, making it difficult to know where the touchpad is. This is very strange, because two small buttons are easy to feel: one is concave, the other is flat but with raised tactile lines in the middle. But the touchpad's features and satisfying click effects make up for this.
There are two convenient volume buttons on the side of the controller, so you don't have to adjust the phone's volume button when the phone is on the head.
The design of the controller is quite compact. For people with large fingers or hands, the controller may look a little small, especially if the touchpad area is small.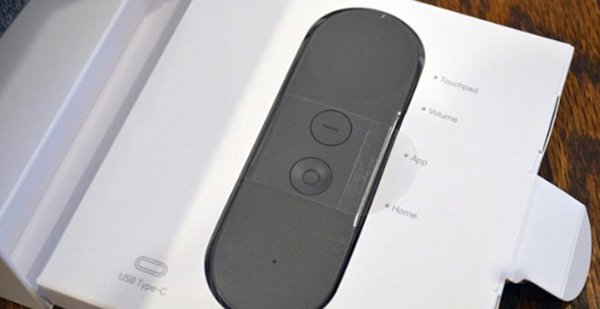 The controller is powered by an internal battery and can be charged via the USB-C data cable. The Daydream View header is not available to the user (probably to reduce costs), but Google believes that when you purchase Daydream-Ready phone, there should be such a data line.
The controller is very simple, but it works well and adds a lot of elements to the mobile VR experience. But nitpickingly speaking, I do have a slight discontent. The "remote" style controller feels uncomfortable after a long period of use. Because you need to bend the wrist unnaturally. You can try it out: Extend your hand like you hold a cylindrical remote control. In order to use the remote control, you need to point the cylinder at what you are controlling and then warp up and down. It is believed that you will soon feel uncomfortable.
If it's normal to hold a TV remote control to switch channels every 10 minutes, but if you've been switching channels, you're unlikely to hold your own hands and often warp your wrists.
For Daydream, you will want to sit and put your hands on the legs for remote control, which is fine unless you need to point below the horizon (this is very frequent).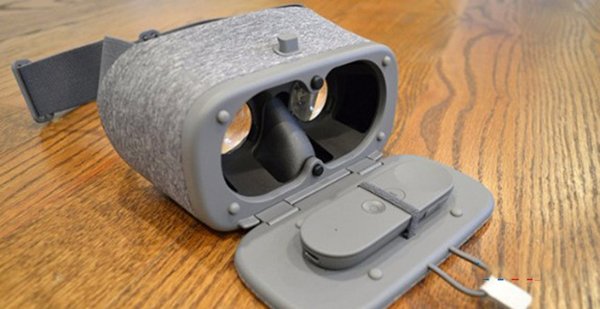 Daydream controller can be attached to the head, so it can always be with you.
The problem of pointing below the horizon can be corrected by significantly tilting the angle of the virtual pointer so that the line does not come out directly from the top, nor does it have to be aimed at the receiver like a TV remote controller equipped with an infrared booster. . In some experiences, this line seems inclined, but it is only a few degrees. It may feel strange at first, but it will be more comfortable. The reason for pointing the remote at such an extreme angle is that it is easier to aim.
5. Comfort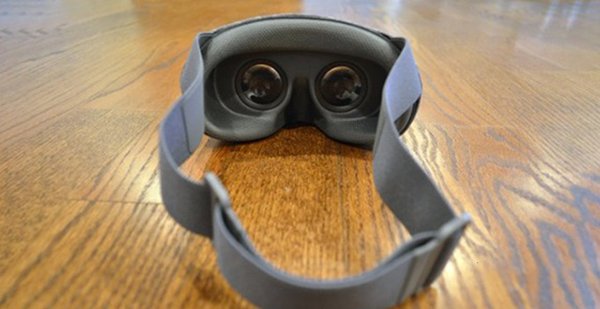 Daydream View is light and compact, but large phones like the Pixel XL add 168 grams of weight to the headset. Due to the thickness issue, it will be easier to notice this phone. Although the total weight of mobile phones and head phones is not as good as that of Gear VR loaded with smart phones, because View does not have a top strap, only your face and back of the head to share the weight, I believe you have also noticed this problem.
Since there is no top table to bring in the weight of the apportioned part, a relatively small facial pad will need to bear more weight, and you should also realize that the weight around the eyes will bear more, and hope (me too) facial pads The surface area can be made larger to better distribute the pressure.
When I fasten the straps and put my head on the face, I find that this is not a suitable solution for long-term use, and Gear VR is more comfortable (although heavier), at least for my face. . Since the face interface part seems to use cheap materials (fixed with Velcro, it will be removed during hand wash), I hope Google can optimize this in the future, or teams like VR Cover will intervene and provide users with more comfortable Third party selection.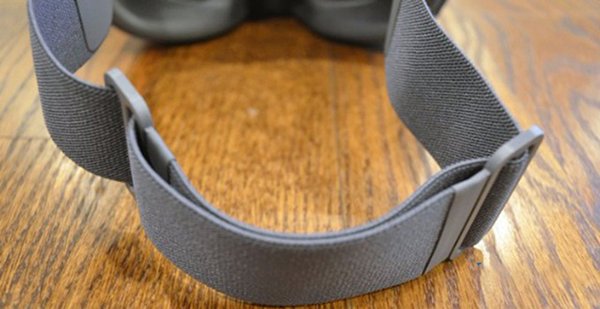 Speaking of the strap, because there is only one, you need to tie it tightly to prevent it from falling. This requires a little time to adapt compared to the headband with the top strap, but it works. Google did not choose the Velcro designs that we see on most of the headshots. Instead, we use two plastic slide rings on the elastic parts. When you push them closer or farther, they tighten accordingly. Or release it. It's quick and easy to adjust, but I think I need to re-tighten it every time I put on my head, which makes me hope that they still use Velcro design.
performance
6. Field of view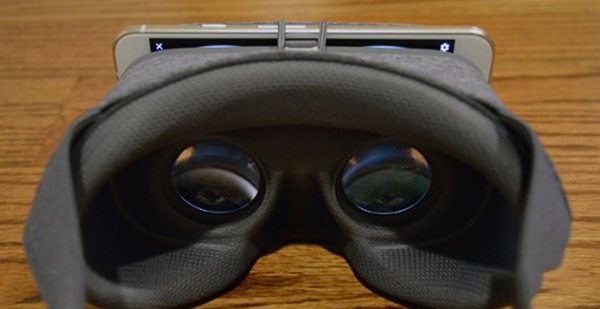 Google said that Daydream's field of view is 90 degrees (this may change depending on the phone), and it matches the first and second generation of Gear VR on paper, but slightly behind the latest generation of Gear VR ( 96 degrees). However, field of view data does not necessarily explain everything. In my experience, I feel that the field of view is slightly smaller than the previous two generations of Gear VR. If we consider the Gear VR to be the standard 90 degree, I estimate the View's field of view is 80-85 degrees. But this is enough to make you immersed in the virtual world, but compared with Oculus or Vive, you will notice a significant frame, as if looking at the telescope. And some artifacts caused by the lens will make this problem more serious, we will discuss below.
7. Leakage & Lens Flare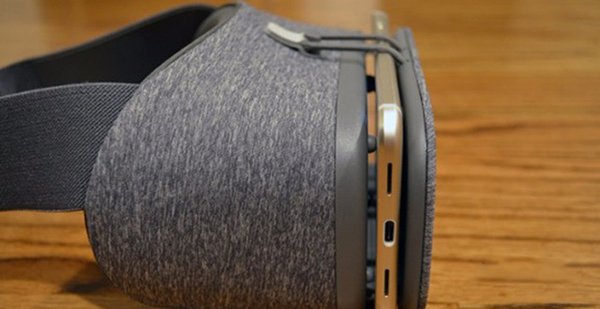 View actually does a good job of stopping light from entering the head from the nose or other facial interface. However, due to the fact that it is designed to fit smart phones of different sizes, there is a lot of space in the gap between the mobile phone and the head display to let light slip into the interior.
In the worst case, the light above the head will light up every piece of dust on the phone screen and lens, which will affect immersion. Being away from direct light will help, but if there is significant indirect light, it will cause significant light leakage problems. These problems only become visible when you look at dark scenes, but in other situations, a brighter virtual environment will mask these issues.
Even if you turn on all the lights in the room, you will still find that the lens will cause some obvious problems. In high-contrast scenes, especially with white objects/text on a black background, you may see a full glow at the edges of the view. This is not only annoying, but it also highlights the limited field of vision. However, this artifact will disappear in brighter scenes. If we can convince developers not to set a bright logo on a black background, then this is no longer a problem.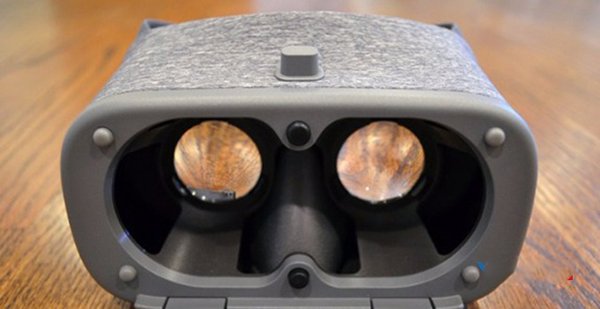 However, there is also good news on the lens: In my short test, I did not find any fogging. Unfortunately, atomization only occurs under certain conditions (the most important variables are humidity and temperature), so it is difficult to prove that the head is not easy to fog, or that the variables I tested at the time were not correct. However, I will continue to observe this issue.
Image quality & delay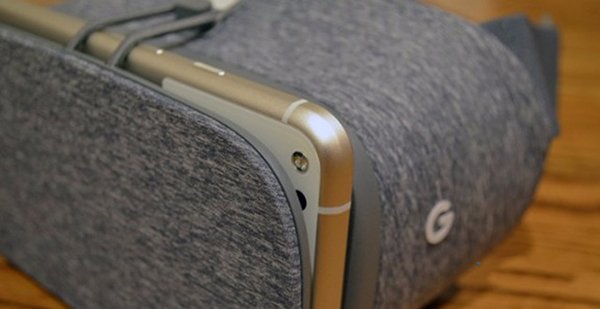 These factors vary from phone to phone, but since Google has set Daydream-Ready minimum configuration requirements for mobile phones, most of the discussion below applies only to Pixel.
8. Resolution, screen effect, uneven brightness
For a resolution of 2560x1400 AMOLED displays (the same resolution as Gear VR), you will see a much clearer picture than Rift and Vive. This makes Daydream View + Pixel very suitable for VR video images, as well as other pre-rendered content. But even with this pixel, you still don't think that images will be as rich as Rift or Vive, because mobile phones can't handle the same level of graphics in real time.
There is a screen effect (voids between pixels), but it is not obvious. So if you are not paying attention to the pixels, but begin to pay attention to the VR world in front of you, the screen effect will disappear to a great extent. Daydream View + Pixel's screen effect is not as significant as Rift or Vive.
Intensity unevenness correction is in place, which maintains a high degree of pixel brightness uniformity, thereby improving clarity, especially in dark scenes. PSVR's uneven brightness correction is disappointing, but I believe most Daydream users will not notice this.
9. Refresh rate, low retention effect, black smear
Pixel (and all upcoming Daydream-Ready phones) have a 60Hz refresh rate in VR mode, the same as Gear VR. The delay is definitely lower than the critical 20 second threshold, which provides a smooth and convincing image. Even if you turn your head there won't be much impact. Some people are very sensitive to flickering images and will be more noticeable at lower refresh rates. But I personally did not notice any flickering at 60Hz refresh rate.
Low persistence, a technique that reduces blurring during screen motion. But compared to other heads, the effect on Daydream seems not so good. This becomes even more pronounced when you turn your head while fixing your eyes in the text. But in the general scene should not notice.
The black smear phenomenon in Daydream is more obvious. During the head movement, you will notice that the dark area of ​​the scene will leave a short smear in the bright area. This problem is related to the ability of OLEDs to quickly change pixel colors, with the exception of black. This is particularly noticeable when small, black objects are contrasted with bright objects such as black rocks appearing on the coast in sunny backgrounds or black ships under bright skies.
application
10. Daydream Home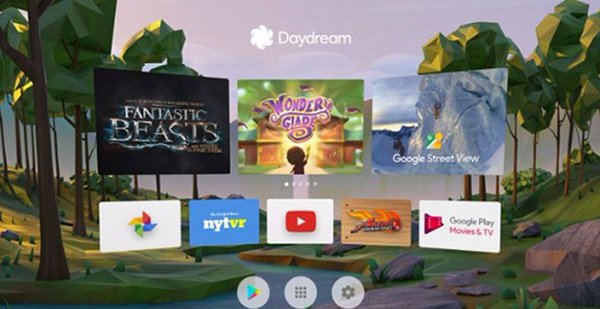 The main page in VR is very pleasing, with a fairy-tale forest, auspicious colors and a pleasant ambience. Although this is only a main page, Google has done a great job on UI and UX to make it look more interactive.
When you point the controller from one icon to the next, you will see that the icon not only reacts to the action but also responds to depth. All icons and photos have some depth elements that feel more realistic than flat icon grids.
In general, the entire interface is intuitive, but it also needs to prompt the user where to scroll, drag and slide. There was a moment when I didn't know that the long text description of the application was clickable, but after I discovered this, I didn't realize that I could actually scroll further through the controller's touchpad.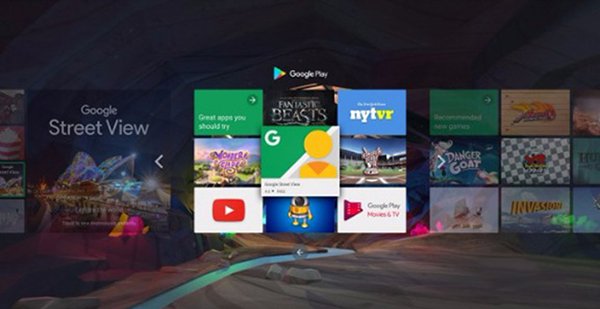 Installing the application is very simple, and Play Sotre's VR version will wrap you in a 3D image layer so that you can have a basic understanding of the experience without having to scroll through the 2D screenshots.
However, the process involved in installing an app in VR is not particularly efficient and requires a few button presses: Start the Play Store> Select an application> Select Install> Select Download under WiFi only> Choose to confirm the installation> Select the Back button to return to the browse page . Installing the application is actually a very simple process. I think Daydream is a little complicated because there are several transitions in the background during this process. But you can install VR applications outside of VR at any time, such as on your mobile phone.
11. YouTube VR is finally online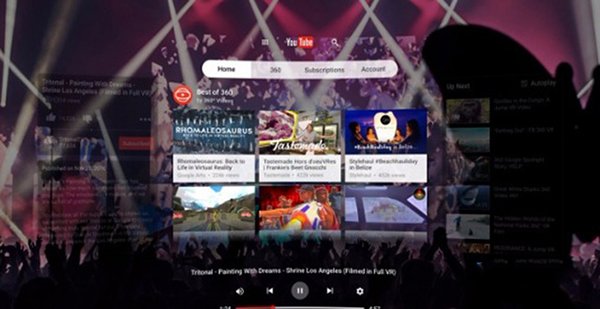 Strictly speaking, due to the existence of Cardboard, the VR version of YouTube has already been available, and you can watch YouTube videos in other headlines, but these methods are not ideal.
But now the official and complete YouTube VR application is already on Daydream. You can not only browse to the VR content library on YouTube, but also view the standard format video under virtual settings. The app is fully functional, and you can perform most of the normal YouTube functions, including viewing subscription videos, subscribing to new channels, and searching for videos via text entry or voice input.
For flat video, you can choose to increase the size of the screen and adjust the position at will.
I believe users all spend a lot of time on this application.
12. Other Google Apps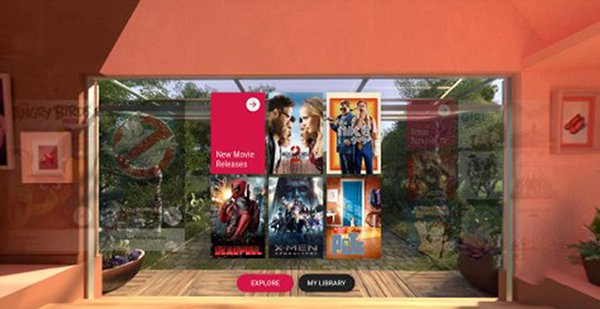 Google offers several key VR applications, such as Photos and Play Movies, where you can browse for content that you have captured or purchased. There is also a preview version of Google Arts and Culture. At present, users can browse high-definition scans of famous paintings that are planned and narrated by museums around the world. Street View can take you to the Taj Mahal or explore the depths of the cave, but you can still enter a specific address to view any actual Google Street View gallery.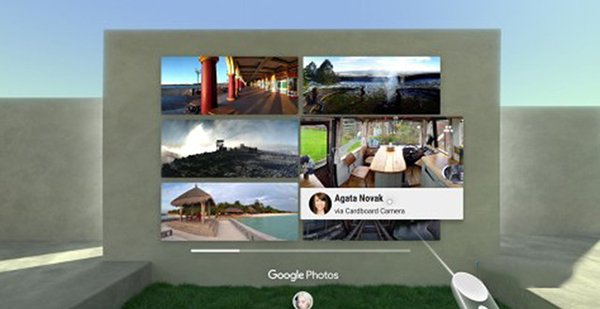 When you are using Photos, Cardboard Camera allows you to shoot 3D 360-degree pictures. If Google can make sharing easier and more appealing, then even better.
13. Games
Daydream's current games are not that attractive (there are few at the moment) and it's hard to say which game is particularly prominent. Although the game has some nice features, it still feels like a demo. Of course, most games are available for free download. However, most games have proven that a simple motion controller can add many elements to the mobile VR experience, allowing players to feel that they can have more direct impact on the virtual world.
Developers are still learning how to use this new input paradigm effectively. I hope to see a lot of iterations and experiments in the next few months. We will also pay close attention to the best games.
14. The lack of social experience
Daydream does not have an attractive social product. Although there is a game that looks like it can work together, it's just a multiplayer game. What I am looking for is a social experience that allows me to hang out with my friends in VR. Even a multi-user YouTube will be a good starting point for interacting with friends. Unfortunately, Daydream currently does not have a particularly compelling social service, but believes that there will be such an experience in the future on the Daydream platform.
Smoking Accessories,Vape Tray For Electronic Cigarette,Led Glowing Tray,E-Cigarette Tray
Shenzhen Aierbaita Technology Co., Ltd. , https://www.aierbaitavape.com