As of 2007, the industry has entered the Chengdu market for nearly seven years. It is reported that the annual sales of karma in the Chengdu market are increasing. With the brand planning of EV manufacturers and increasing the power of professional media, it has gradually established a good reputation in the industry. According to Jiang Yongjun, the head of the Grid Chengdu Logistics Center, the sales task of EA in Chengdu this year was 6 million. At the end of October, the financial statistics were carried out. Statistics show that the annual task has been exceeded. Among them, retail accounted for 20%, engineering accounted for 70%, and small businesses accounted for 10%. Jiang Zong said that this year is a good year for Sichuan's sales completion. It has undertaken relatively well-known projects in Sichuan, such as Panda City, Tibet Hotel, Dujiangyan Lanqiao, Renhe Spring (Wenjiang) Shangdong Sunshine, Chengdu Military Region Politics. Ministry, Sichuan University, Chengdu Labor Bureau, Sichuan Statistics Bureau Building, Provincial Public Security Department, Chengdu Development Committee, Hongqiao Chain, Jiuzhai Paradise, etc.
In the end, Jiang also revealed to reporters that the next step is to adjust the market adjustments to some small businesses that are responsible for the agency industry to protect the interests of large businesses. In addition, the development of invisible channels such as engineering companies, large decoration companies, and architectural design institutes will be strengthened.
Shifu Solar's projects in Hubei have been successfully completed. Nuoke Lighting has completed 330,000 sales (Figure) Huahui Lighting Marketing Center moved back to Shunde (pictured) to build LED industry for the photovoltaic industry in the west. Philips ActiLume landed in China (Photo) Yuanguang Yaming Electrical Appliances Digital China ERP
Reading era
Pay attention to the National Light Games crystal lamp blockbuster: color ring electronic technology building energy-saving renovation lighting control technology
1

1.ANTENK Female Header Series Receptacle Strips are a series of sockets offered in a multitude of sizes and profiles designed to satisfy most .100" pitch socket requirements. Available in Single, Dual and Triple row, they are offered in Straight, Right Angle, SMT, Bottom Entry and Pass Through PCB mounting styles. Each type has a specially designed contact system which uses a wiping mating action and produces a high normal force connection with gold, tin or selective gold plating. All are available with Standard or Hi-Temp Thermoplastic insulators. Our SMT offering is available with optional pick and place pads and tape & reel packaging.
2.Our products are widely used in electronic equipments,such as monitors ,electronic instruments,computer motherboards,program-controlled switchboards,LED,digital cameras,MP4 players,a variety of removable storage disks,cordless telephones,walkie-talkies,mobile phones,digital home appliances and electronic toys,high-speed train,aviation,communication station,Military and so on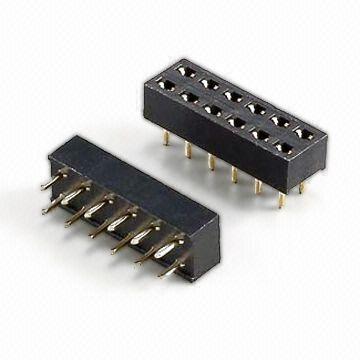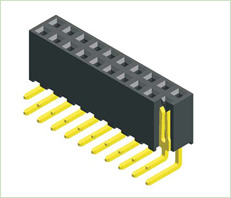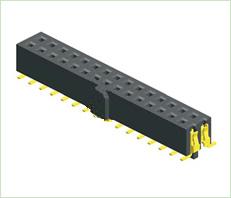 2.54 Famale pin headers
SPECIFICATION
Current Rating: 3.0 Amp
Insulation Resistance: 1000M ohms min
Contact Resistance: 20M ohms max
Dielectric Withstanding: AC500V
Operating Temperature: -65°C to +125°C
Contact Material: Brass
Insulator Material: PBT,UL 94V-0 Black

Female Pin Headers,Pcb Female Connectors,Pin Connector Header,Oem Female Header
SHENZHEN ANTENK ELECTRONICS CO,LTD , http://www.antenk.com